#1 - Escher, and perspectives on public art
a newsletter about drawing on location

Welcome to the SneakyArt Post, and thank you for subscribing. In this issue, I'm going to talk about perspectives in a recent sketch, share some notes about the work of MC Escher, and share a sketchbook tour video. I hope you enjoy it.
If you like the SneakyArt Post, consider sharing it with someone who might also be interested.
---
---
#SneakyArt
This week I drew on location from my couch. Brave, I know. I looked out of the far window, next to the kitchen. From a distance, a residential building crept into view. For a moment as I let myself watch, across the invisible glass, outside and inside merged into one.
I tried to stay with that feeling as I drew this scene. Also made a haiku about it -
Outside meets inside
And there, right at the junction
It is, perspective.
---
#Throwback
In the winter of 2017, I sat in an old bar in a small town in the Netherlands. I had not seen this place for some years. I waited for friends whom I had also not seen for some years. I drew this after the second or third beer, because I got there early, after I realized I wasn't carrying any paper. Necessity is the mother of invention!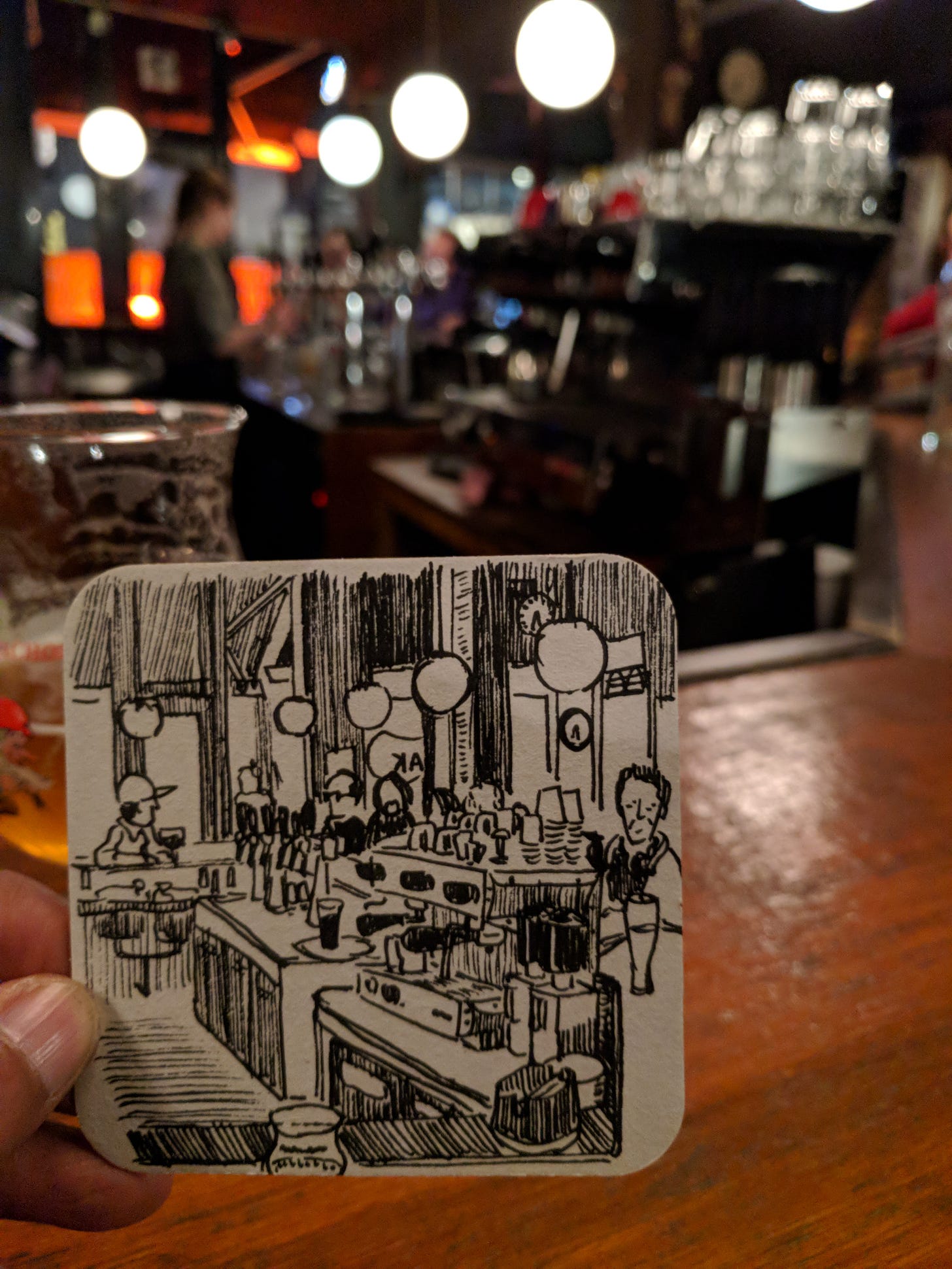 ---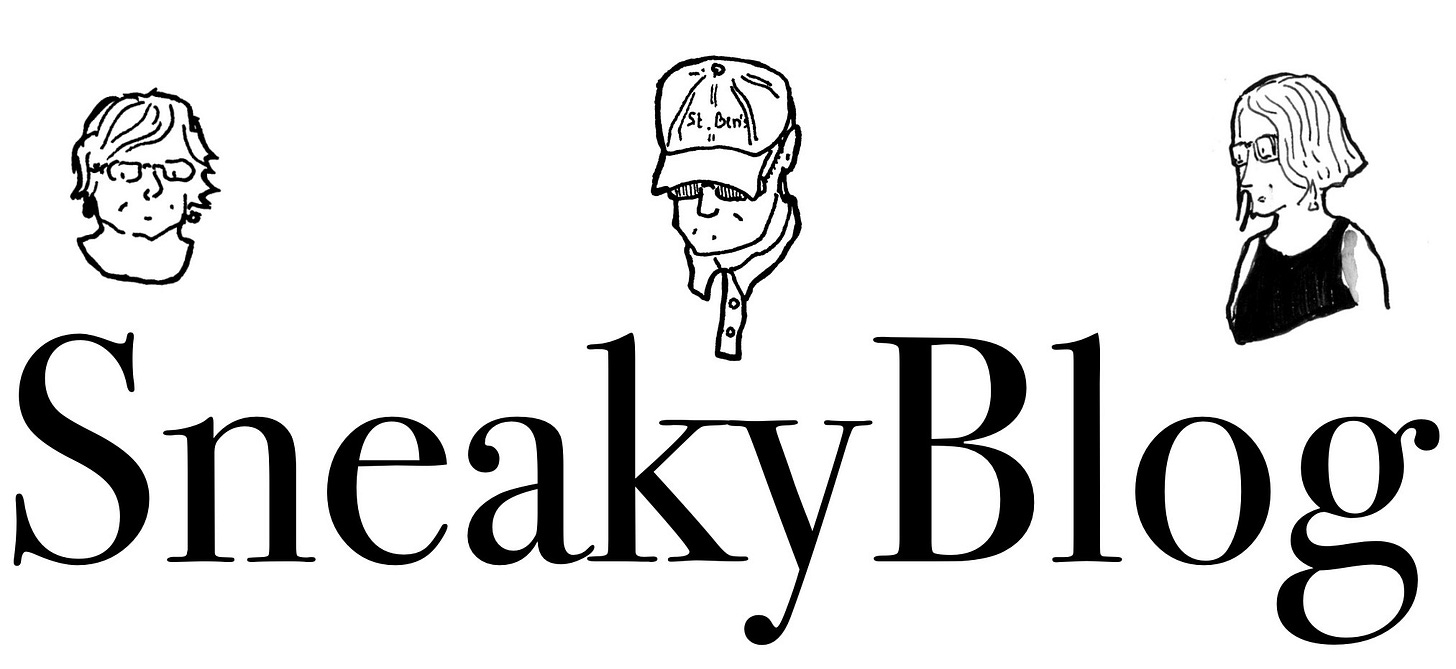 Escher and Inspiration (1/5)
The work of MC Escher has long amazed and intrigued me. In this first part of my series on MC Escher, I look at the profound inspirations that transformed the Dutch graphic artist's career. (Read more…)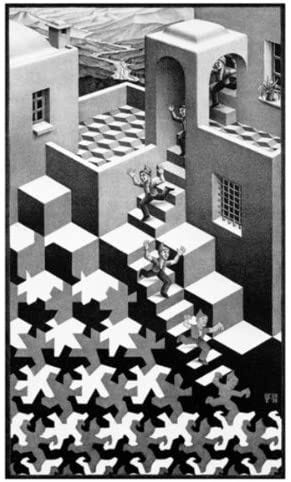 (Cycle by Escher, 1938)
Finding himself uninspired by his surroundings, Escher turned his creativity inwards, seeking images within his mind. He thought about the Moorish (Muslim) tiles he had seen at the Alhambra in Spain. And an idea occurred to him unlike anything he had considered before.
He called this "the richest source of inspiration that I have ever struck". It would go on to define nearly all the work which made him famous…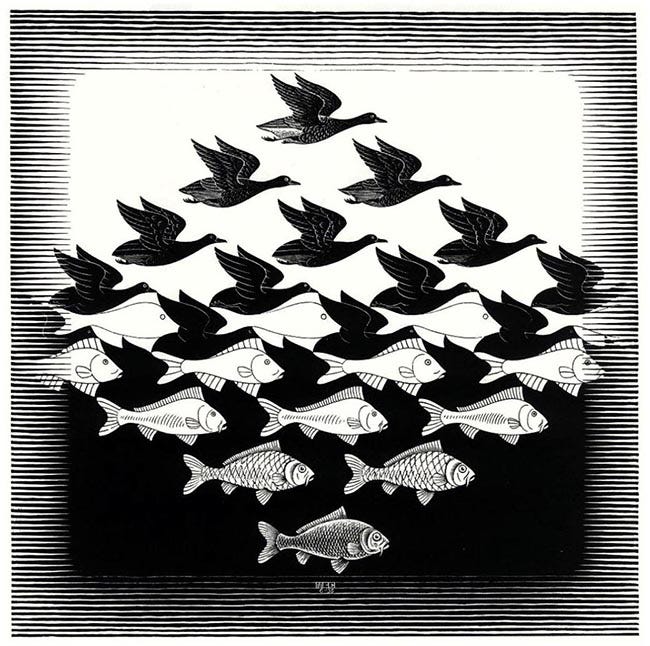 (Sky and Water by Escher, 1938)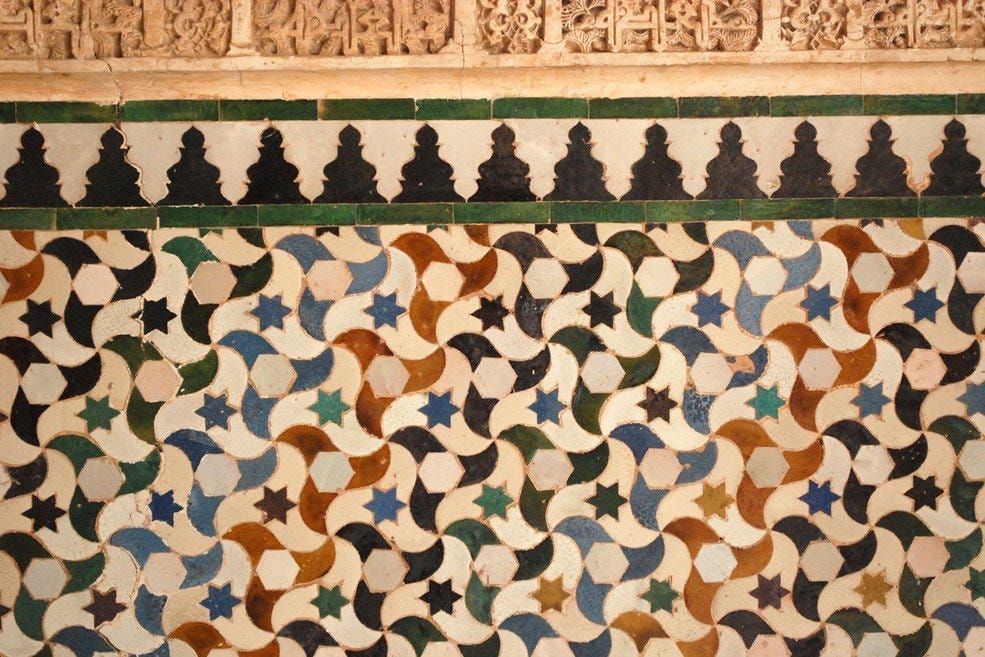 (10th century Moorish tiles at the Alhambra, in Spain.)
---
A Picasso for all, and thoughts about Public Art in Chicago
Public art fascinates me. After all, what is a sculpture doing? Around public amenities—like buses and buildings and traffic lights—what business does it have?
I'm intrigued by the ways in which people interact with art in public places. So when I am around such structures, I take the time to consider not only the installation but also the people around it. What do they do? What do they see? How do they relate to this abstract device of dubious purpose?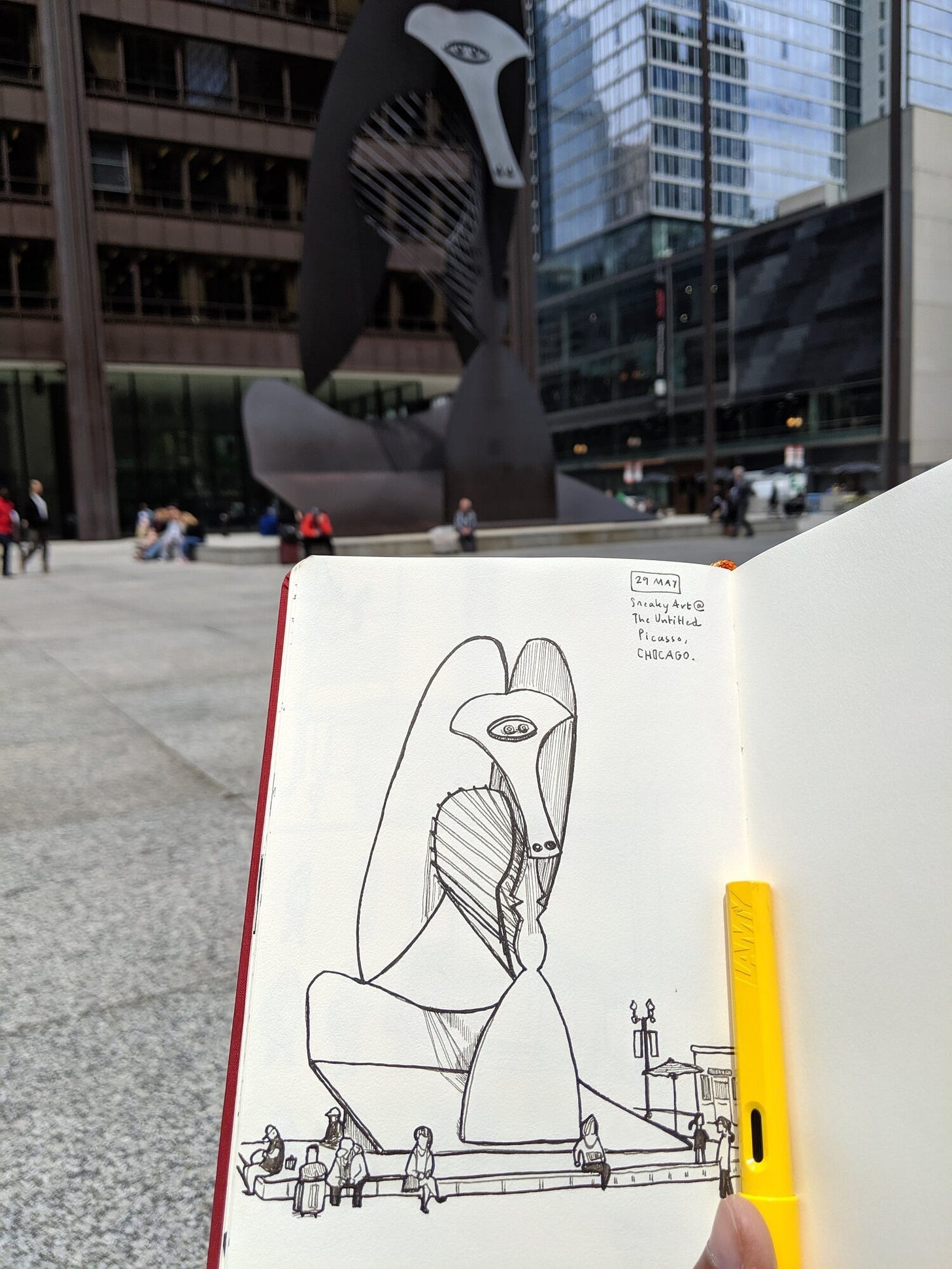 (SneakyArt of 'Untitled Picasso' in Chicago, May 2019)
---
SneakyArt wins Publishing Awards!
Last month I learned that I had won two independent publishing awards - Bronze for Best Cover at the 2020 IPPY Awards, and Gold for Best Total Book Design at the 2020 Midwest Independent Publishing Awards.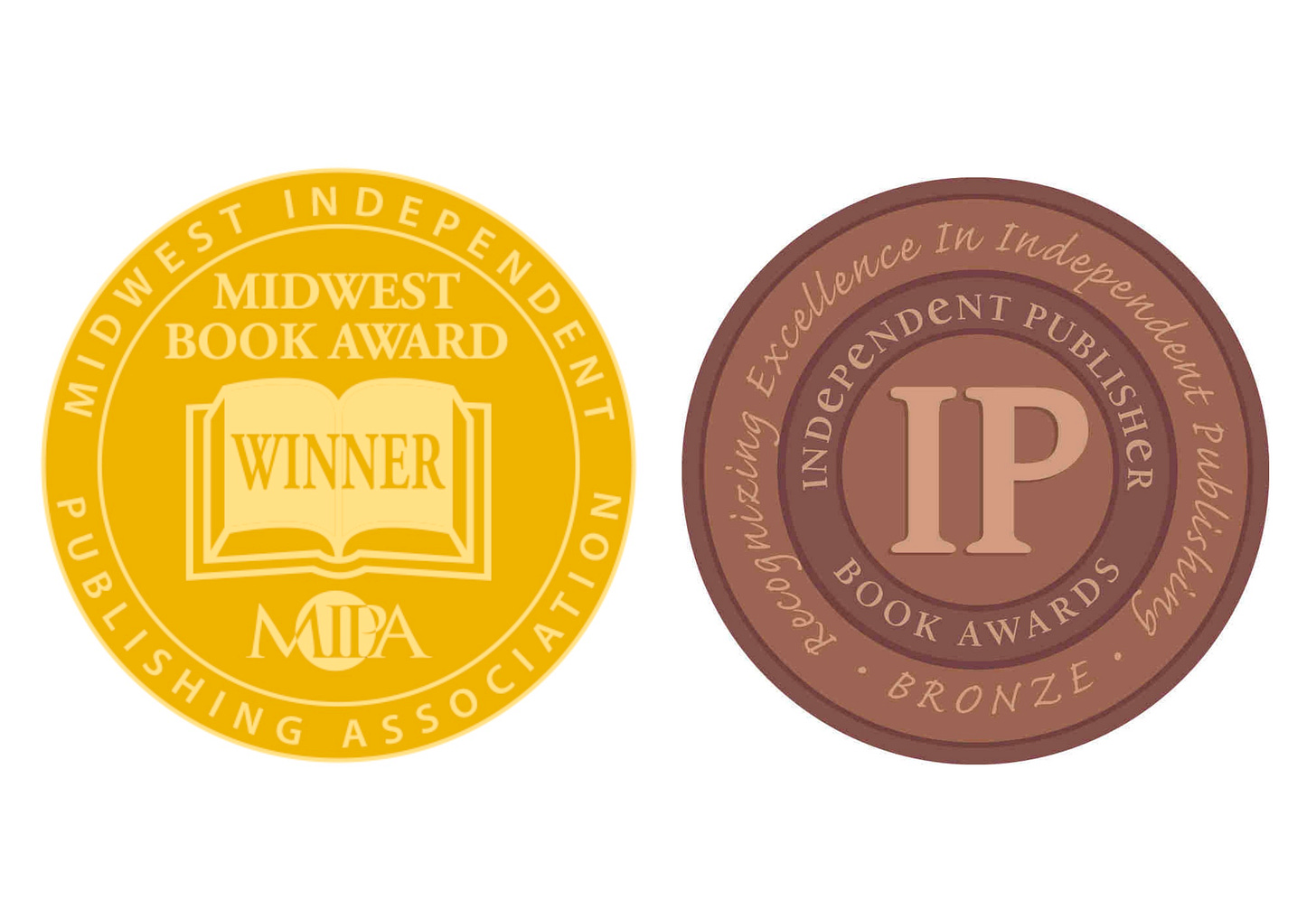 ---
Sketchbook Tour
Here is a video going through my sketchbook of Dec2019/Jan2020. It was a time before the word 'coronavirus' entered my vocabulary. Innocent times!
---
Have I still got your attention?
Wonderful. If you like what you see, please share the SneakyArt Post with friends who might be interested!
---
Click below to buy my book!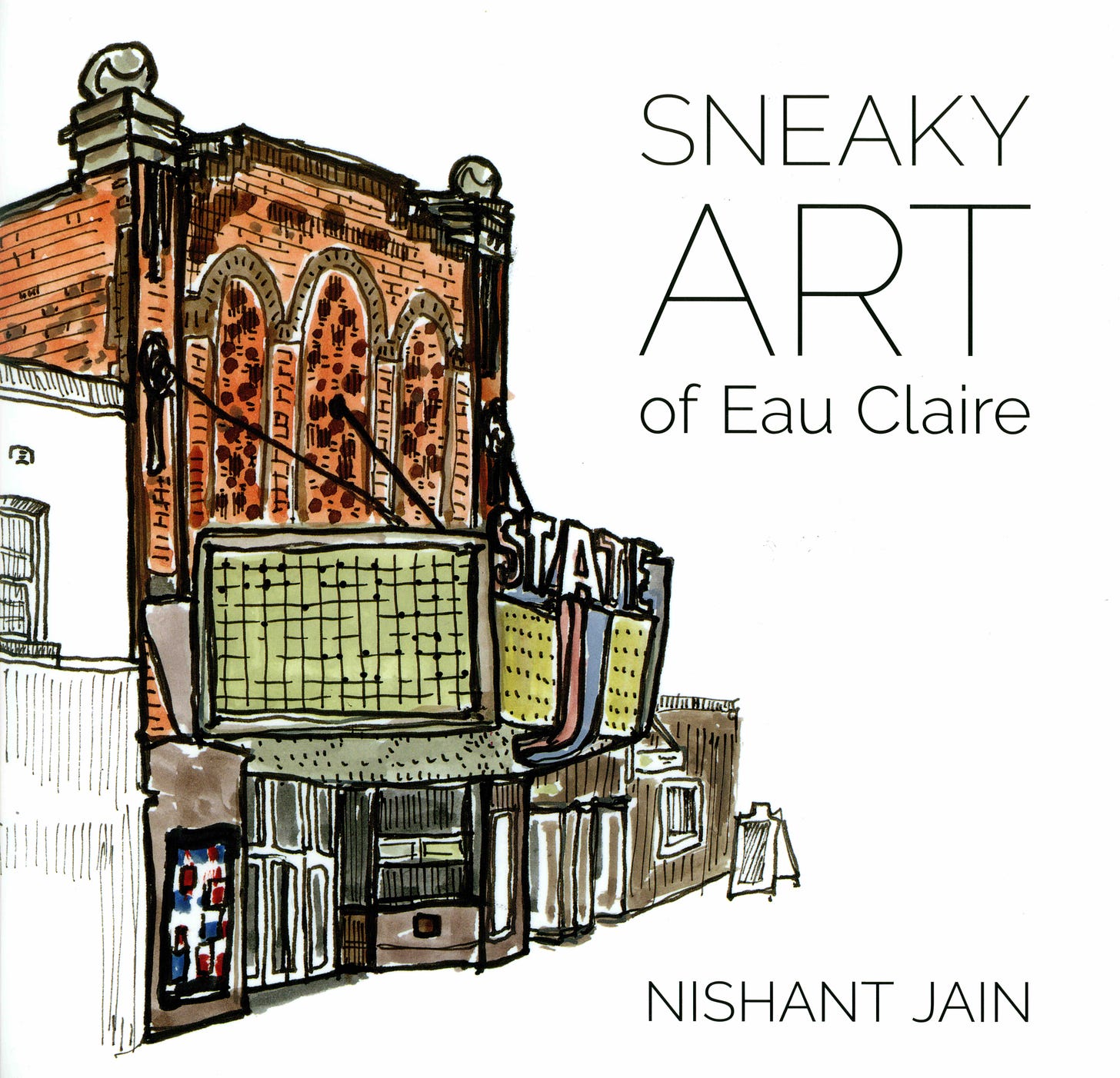 ---
#inspiration
Charles Bukowski is one of my favorite writers. Here he recites his famous poem, 'Bluebird'.
I love everything about this piece. It encapsulates the person he was and the generation he belonged to. It covers his struggles and vulnerabilities. It shows his resilience and a stirring self-awareness of his own limitations.
"There's a bluebird in my heart,
and it wants to get out.
But I'm too tough for him…"