[Insider 67] Leaving Room for Magic
2022 in Review Pt 3
Dear Reader,
This month I am doing an audit of my year's work. It is the conclusion of my year-long resolution to learn in public.
The SneakyArt (Insider) Post is the Sunday edition written exclusively for paying subscribers.
In case you missed it, catch the amazing media coverage I received this month for my artist residency - on early morning radio with Stephen Quinn, and on the evening news at 6 on CBC!
🎯 Learning in Public
This year I made a commitment to share everything I learn. I did it for the first time when I shared the how and why of self-publishing my first book, SneakyArt of Eau Claire (buy the book). Incidentally, it is my most popular post of the year. I also shared my takeaways from the Substack Fellowship program and a primer on how I make the SneakyArt Podcast.
Recently, I conducted a "Be Sneaky" workshop for participants at Pike Place Market in Seattle. Check out my best ideas, tips, tricks, and location sketches from the workshop.
But learning in public is also a commitment to share what does not work. This year I have shared with Insiders my various fears and insecurities. In return, I have found solidarity, kindness, and community. Learning in public works best when there is a real person on the other end. I am glad to have you. Thank you for giving me a portion of your time and attention.
In Part 1 of this audit, I shared a brave moment, a big disappointment, and a big win from the year. In Part 2, I shared my re-commitment to art and a counter-intuitive way to be in charge of my work.
Today's post is Part 3.
🚤 Pacing Myself
This year I learned to give myself a break. I am not a machine, I realized.
Years of sharing work on social media have made me paranoid about becoming irrelevant, and desperate to please the algorithm gods. But early in the summer, I recognized the need to pause the podcast. I was not exhausted. But I felt depleted.
Does that make sense?
I decided to give myself some quiet time, to let the inner monologue come up with new questions. I am not a machine, I realized, and this is a good thing. Read my announcement post just before I went on vacation.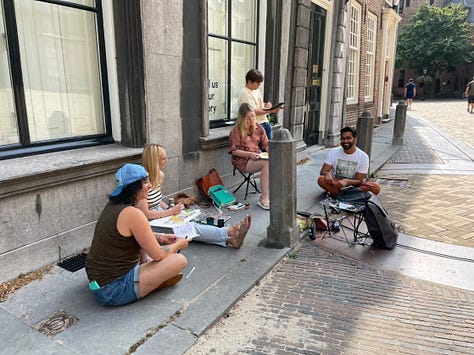 This was also my first time meeting listeners of the SneakyArt Podcast. I picked up a lot of good advice and many flattering compliments. I even recorded a field episode at the Utrecht meet-up (top left pic above)!
🪄 Leaving Room for Magic
I first articulated this while speaking to Jim Richards in Episode 43 of the SneakyArt Podcast. It might be the most significant lesson from everything I have done this year.
This post is for paid subscribers